What is branding? So I like what Wikipedia says:
Branding is a set of marketing and communication methods that help to distinguish a company or products from competitors, aiming to create a lasting impression in the minds of customers.
MARKETING AND BRANDING IN THE FEDERAL MARKET (THE PERCEPTION):
A lot of new government contractors seem to think that branding doesn't matter and I'm not really sure why. But I hear stuff like this all the time:
1) The government doesn't market to us so why do I have to market to the government?
2) There is a structured sales and evaluation process and the quality of the vendors branding and marketing isn't part of the review criteria!
3) Marketing is fluffy BS, I'm a serious tech founder, and technical merit SHOULD determine who wins.
MARKETING AND BRANDING IN THE FEDERAL MARKET (THE REALITY):
I am very sympathetic to people that think that branding shouldn't count, but let's consider a couple of things:
1) The government does market, a lot
–Industry days and FBO
–USAID food parcels
–Marine Corps recruiting commercials
2) While marketing is not part of the RFP selection criteria, the heavy hitters in our market seem to think it is important, if you doubt me just check out the Pentagon metro station.
3) The best technical solution doesn't always win, just look at VHS and Beta
I'm not suggesting that you should spend a lot of time on branding and marketing right now, but if you choose a solid name and logo, and your core messaging shows that you know the space and what your customer cares about you are going to multiply the impact of your other sales efforts.
I hope you believe that there is value to good marketing and branding so how do you approach yours? Well, first let's be clear, branding is all about driving SALES so here's how I see branding helping you with sales:
THE SALES FUNNEL:  
Let's look at the sales process, AKA the sales funnel. Which is just the series of steps that a customer goes through on their way to buying from you: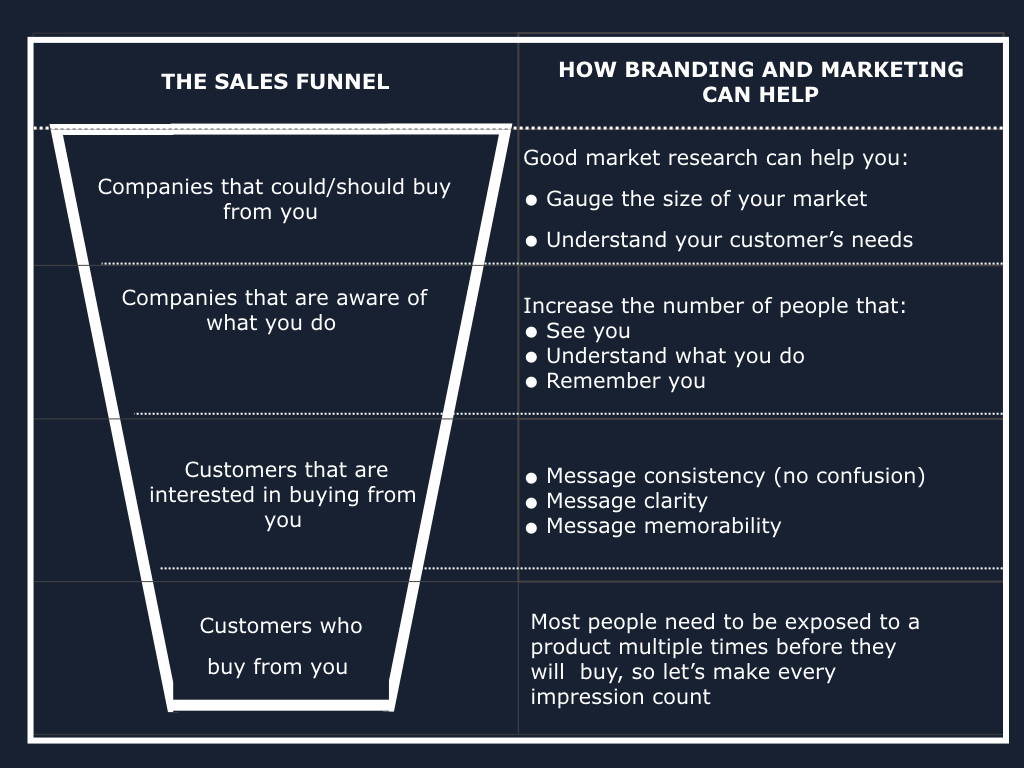 RINGS OF ENGAGEMENT:  
Branding has numerous components, from your name to your business card to your website, so we need to consider who will see what: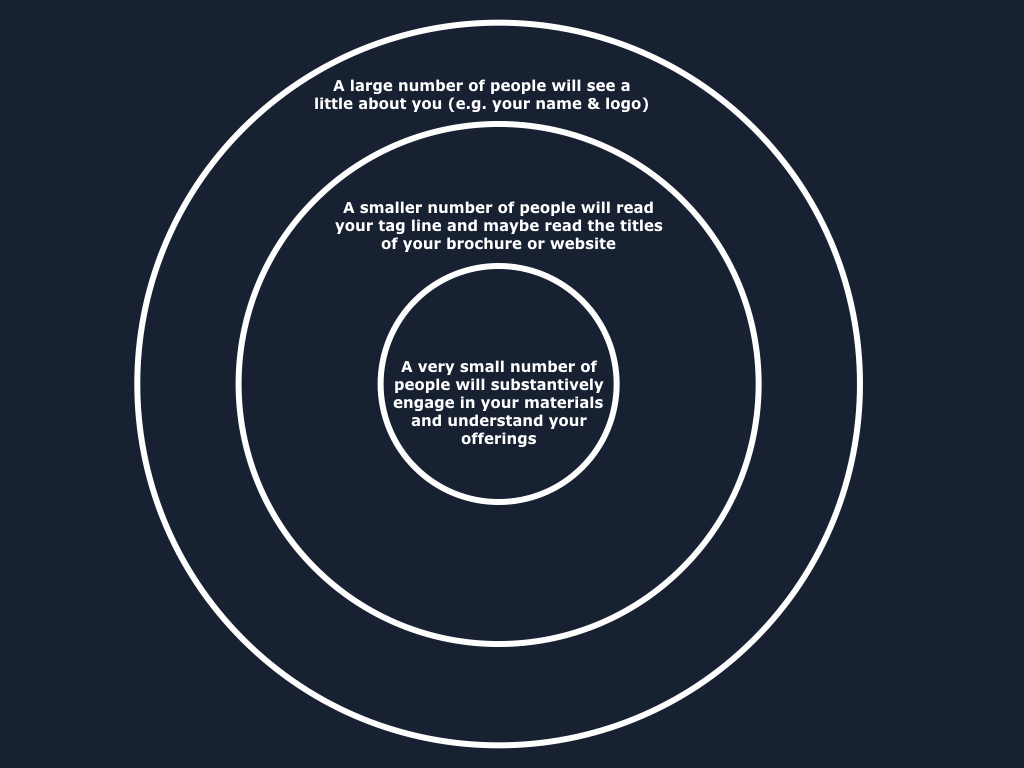 OVERVIEW OF THE NEXT CLASSES
I'd expect that all these classes and exercises will take about three hours and most of that time will be spent:
-Thinking about what you do
-What you want to stand for
-What is going through your customers' minds.
Once we have some answers we are going to package that into a few different forms (e.g. name, website and cards) so you are ready when you meet potential customers
WHEN DO I REGISTER MY COMPANY?
I know this is a lot to do before you've even registered your company and I know that other courses focus on your registrations, but I really think this is more important because:
1) It only takes a couple hour to do all the registrations
2) We are going to want to use some of the information in these classes in the registration
3) You can start talking to people about your company and showing them marketing materials before you register, so let's get this done first
And last, have a good time with this. This is your chance to think long term about your company and what you want to create so don't be afraid to think big!