The importance:  Government contracting is likely the most relationship-driven industry on earth, so if you aren't building relationships, or building them with people who can't help you win work, you are seriously hampering your chances for success.
Who are we trying to meet:  Not all relationships are created equal:
Government:  The government officers we want to meet are the Program Managers (PMs) and Contracting officers (COs, KOs, and CORs)
Other contractors:  At the incumbent vendor community we want to meet: Capture Managers, Proposal Managers, and senior program officers
Step 1: The easiest way to find the vendors who are already winning work at your customer is to go back to the pivot table in your Customer Identification worksheet, and add VendorName to the bottom of your Rows Window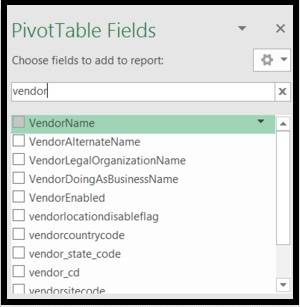 Step 2: Add VendorName to the bottom of the Rows Window and this will cause all the vendors who have won work at your anchor customer to pop up (boxed in red below)
Take a look at this list and note the ones who have won work in your anchor product or service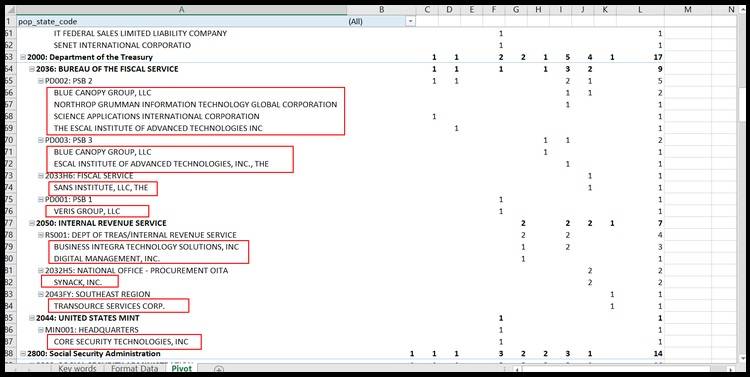 STEP 3: Investigating these companies: As you find vendors it is worth going to their webpage and comparing the kind of work they list to the RFP analysis you did. Basically, we want companies that can fill the gaps we have, but even if they do exactly the same kind of work as you that isn't necessarily a problem. If they win a contract they will need to staff it, and if they know that you do that kind of work they may be open to staffing their contract by hiring you as a sub. This approach only works when you are small, but it is a great way to get your foot in the door.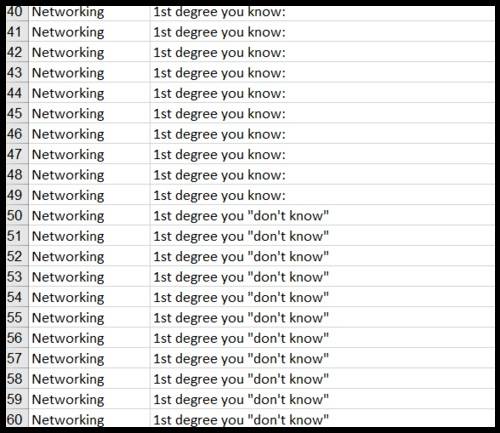 Identify the right people:  Along with doing some light review of their capabilities we want to identify who at that company we should reach out to. And do do that I suggest looking through their website for anyone who has a title like Project Lead, Capture Manager, Proposal Manager, and then searching for them in LinkedIn. As they come up see how connected you are to them and if they are a first degree connection then write them into our Work Plan in the first degree connection section towards the middle of the work plan. If they are a second degree connection write them in just below in the 2nd degree section and write in one or more of the first degree connections that connect you. I also recommend searching for the company in LinkedIn. If it is a large company like Booz Allen you may have to add the companies name and a couple words related to the office name or type of work being done. But as you find people with relevant titles and connections to your anchor customer write them into the work plan.
Comparing what these companies do to what you need:  As you find companies that have won work at one of your customers.
Identifying the government reps:  Now that we have a list of people at contracting companies that are important for you to meet we need to do the same with government.
-LinkedIn: So lets go back to LinkedIn and we are going to look for people at the office we care about who have titles like: program manager, program lead, or anything with the word contract in their title. So search for the titles in quotes, and if you have LinkedIn premium narrow that by the current employer, or if you don't list the office and agency into the search bar as well
-Go to your workplan and start filling it in
-I recommend recording everyone with these key titles whether you are connected to them or not as you are going to want to meet them eventually
-Webpage:  Almost every office will have a webpage that lists the people who work there, go there and if you find anyone with an interesting title search for them on LinkedIn then add them to your Work Plan
-RFPs:  Now go look at the RFPs you have pulled and see who is listed at the bottom of the Synopsis, look them up in LinkedIn and add them too